SimpleMeal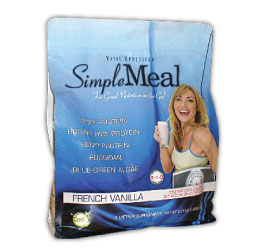 Price: $81.00
Contains whey, brown rice and hemp proteins


Fucoidan and Blue-Green Algae
included to help boost the immune system


Replace 2 meals a day with SimpleMeal
to help loose weight while still
getting great nutrition
A quick balanced meal packed with nutrition! SimpleMeal Replacement Shake is complete nutrition in a light, refreshing meal that's easy to make and delivers balanced nutrition that tastes delicious!
JUMP START YOUR WEIGHT LOSS! Replace 2 meals a day for the next 15 days with our SimpleMeal Replacement Shake, add our Mystique Lifestyle Patch and Silver and watch the pounds fall off!
Enhance the flavor and nutrition by adding any one or more scoops of our other nutritionals such as AloeRed, OPC+, isLife and/or isGreens. Add one scoop of each or a combination of 2 or more of your choosing!
ALLERGEN INFORMATION: Contains milk and soy (lecithin).
Ingredients
Hear the Facts