isGreen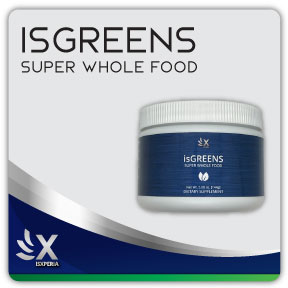 Price: $97.20
Extremely nutrient dense
100% whole food nutrients
4-8 ounces more per jar than other blends
Loaded with enzymes and life force
Exceptionally absorbable
100% vegan and organic or wildcrafted
Contains Natural Soil Organisms
Alkalizing effect on body
Nutritionally Supports Blood Sugar, Detoxification, the Immune System, Liver, Kidneys, Blood, Bones, Colon, Regularity, Circulation & Longevity!
isGREEN combines 31 whole superfood ingredients, including land and sea vegetables, cereal grasses, fruits, algaes, enzymes, probiotics, and beneficial microflora.
The extremely nutrient-dense plant ingredients contained in isGREEN are enhanced by a natural, proprietary process that maximizes life-force energy.
isGREEN contains 100% superfoods, undiluted with any fillers. This nutrient-packed powder has a good taste, and is excellent in smoothies and fresh juices. It can be used as a meal replacement when blended with fresh apple juice and other fruit such as berries or a banana.
Ingredients
Hear the Facts